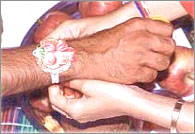 Raksha Bandhan festival is a day to celebrate the sacred bond between a brother and a sister in the most beautiful and traditional manner. This festival is celebrated with high spirit by brothers and sisters around the world as on this auspicious day siblings renew the bond of love between them. Sisters tie Rakhi on the wrist of their brothers and in return they promise to protect their sisters sister from all hardships and troubles in life.
Rakhi festival is celebrated on the full moon day of the month of Shravana as per the Hindu calendar. This corresponds to the month of July - August according to Gregorian calendar. This year, Raksha Bandhan will be celebrated on August 5.
Since ancestral period, rakhi festival is being celebrated and its popularity is continuously increasing with every passing year. This sacred festival spells its magic on brothers and sisters of all age groups. Even if they are distances apart, all brothers and sisters feel the urge to be close to each other.
Rituals followed by a sister on Rakhi
This is a festival in which sisters apply tilak on the brother's forehead, take his aarti and tie a rakhi on his wrist. They also pray for the safety of their brother from all dangers and adversities in life. Brothers also feel proud to have such sisters who love them so much. They also make a promise to protect their sisters and support them in every phase of life. The exchange of such lovable feeling strengthens the bond between them and builds an inseparable bond between them.
Raksha Bandhan also calls for a day of celebrations. On this day, brothers pampers their sisters with attractive gifts and cash. Sisters also express their deep love towards their brothers by showering presents on them. They cook delicious dishes and the traditional finger licking kheer for them. Those staying far away send and receive rakhi gifts with the help of courier, posts and Internet facilities. Rakhi is a moment to express gratitude towards your siblings and make them realize how much precious they are.
People start preparing for rakhee festival in advance as they wish to send Rakhi and Rakhi gifts on time. About a month before Raksha Bandhan festival, brothers and sisters start hunting for the best Rakhi Gifts for their siblings.