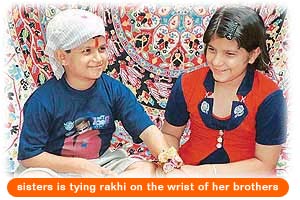 Rakhi Celebration in India stands for the sacred relation between a brother and a sister. On the special occasion of Raksha Bandhan, people of all age group can realize the actual value of having their own brother and sister in their life. The bond of love between a brother and a sister is the most beautiful relation on this earth. This festival brings in the feeling of strong and divine relationship among siblings. Rakhi celebration strengthen the affectionate relationship and love among brothers and sisters.

On this auspicious day, sisters tie a rakhi or a silvery/golden ribbon around the wrist of their brothers and wish them to remain free from any evil influence throughout their lives. In turn, brothers also promise to protect their sisters from any odd situation at any cost.

Value of Rakhi thread
Rakhi is not a mere string of thread but a strong knot of never dying relationship between a brother and sister. A simple thread of Rakhi has that much of emotional strength that can create an eternal bond between a brother and a sister. Raksha Bandhan is also associated with other values like love, joyfulness, rituals, sentiments and pray to almighty God. As this festival promote these values of life, the festival of Rakhi is considered as a unique festival. The values of this great festivals overlap the boundaries of all casts, religions and nations. On this auspicious day, several rituals and traditional customs are fulfilled by the family members.

Preparation of Rakhi festival
Rakhi festival is known worldwide for its carnival spirit and strengthening the bond between brothers and sisters. All girls start preparing for this occasion many days before the festival. They start presuming the gifts which they would get from their brothers. They shop for colorful and designer rakhis. They also buy delicious sweets for their brothers. On the day of Raksha bandhan, brothers, sisters and all other family members take early bath and young boys and girls wear new and clean clothes. After the completion of all rituals and customs, they enjoy the taste of different dishes of tasty food, which are cooked in their homes.

Generally, Rakhis are designed out of silk material or thick thread. But one can also find Rakhis with some gold and silver foils. These glittering foils are often used in making beautiful array of fancy Rakhis. Colorful tattoos of cartoon characters are also being used to make Rakhis more attractive, trendy and elegant. The modernization of style of Rakhi celebration has also been taking place these days.

Many greeting card companies have been entering into the market of greeting card, and people are buying these cards and sending their best wishes to their nears and dears through these cards. As per the traditional belief, brothers sometimes bestow token gifts to their sisters that includes clothes, jewelries, chocolate boxes, sweet boxes and other miscellaneous objects.